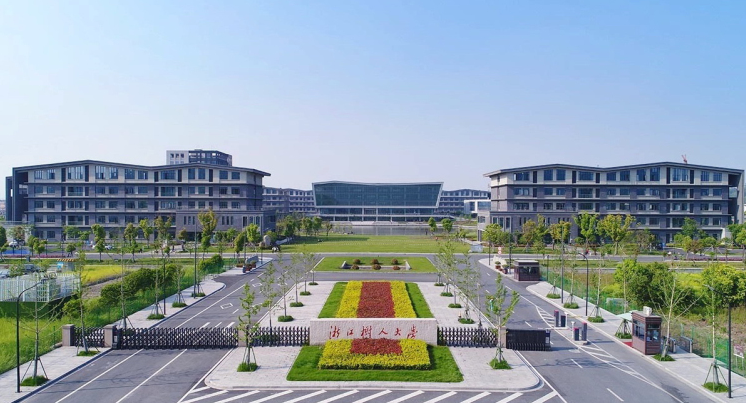 Zhejiang Shuren University (ZJSRU) is an undergraduate university founded in 1984 by the Zhejiang Provincial Committee of the Chinese People's Political Consultative Conference and supervised by Zhejiang Provincial Department of Education. In 2004, President Xi Jinping inspected the university while working in Zhejiang Province. He highly affirmed the method of university running and gave his ardent hopes for Zhejiang Shuren University's future. Over the past 36 years, ZJSRU has steadily improved its quality and social reputation, nurturing over 80,000 talents with solid professional knowledge, strong practical abilities, high humanistic qualities and hard-working spirits.
The university has two campuses, the Gongchenqiao Campus in Hangzhou and the Yangxunqiao Campus in Shaoxing, with the area of over 1230 square metres and the overall floorage of 650 thousand square metres. The university has 12 academic schools led by academicians, such as Shulan International Medical College, with over 17 thousand students. The university possesses 220 million yuan worth of teaching instruments and equipment, 1.84 million books in the library and approximately 960 thousand e-books available online. The university was recognized as one of the first batch of application-oriented pilot universities of Zhejiang in 2015, and has been in the first place in the competitiveness ranking of China's private undergraduate colleges for many consecutive years.
Focusing on disciplinary development, the university has covered various academic disciplines, including medicine, literature, economics, management, science, law, engineering and art, thereby forming a systemized and professional foundation for consistent development. The university has 4 provincial top disciplines, 2 provincial-level and ministerial-level research bases (China-Belarus National and Regional Research Centre of Ministry of Education and The Provincial Modern-Service Industry Research Center), 2 provincial industry platforms, 1 provincial innovation team, 25 university-level research institutes and platforms, 50 undergraduate programs and 8 junior college programs, including 1 national featured major, 4 provincial key majors, 1 provincial advantageous major, 4 provincial emerging featured majors under construction and 3 provincial featured majors under construction. The university has 4 provincial-level experiment teaching demonstration centers, 2 provincial-level key demonstration centres under construction and 10 provincial-level virtual simulation experiment teaching projects. To promote interdisciplinary integration, the university also set up Interdisciplinary Research Academy, the Medicine, Engineering and Information Research Institute, Modern Service Research Institute and Translational Medicine Research Institute.
Zhejiang Shuren University persists in the strategy of strengthening the university with talents. The university has over 1350 teaching and administrative staff, including over 1100 full-time teachers with over 350 achieving a doctorate. In recent years, the university has introduced and cultivated over 70 high-level talents such as National Outstanding Teachers, Provincial Prominent Teachers, Provincial "10 Thousand Plan" Top Young Talents, Provincial Young and Middle-aged Discipline Leaders. The university has employed over 10 high-end talents such as Academicians of The Chinese Academy of Engineering, foreign academicians, National-level Outstanding Teachers, National Distinguished Young Scholars, experts enjoying special allowance from the State Council and Excellent Talents of the New Century of Ministry of Education, to provide powerful talent guarantees for the growth of students and construction and development of the university.
The university is engaged in cultivating senior application-oriented talents. The university has 13 industry schools led by academicians, including: Shu Lan International Nursing School, Shaoxing Rice Wine School, Vanke Sui Yuan Elderly Care School, GREENTOWN Smart Estate School, Zhejiang Provincial Steel-Structure Industry School and Qi Cai-Shuren Future Community Operation and Management School, to improve study ability, application ability and development ability of students with the university-government-enterprise coordination and industry-scientific research-teaching integration. The university has over 260 off-campus practice bases, including 1 national-level college student off-campus practice education base and 3 provincial-level college student off-campus practice education bases. It has 2 provincial-level industry-education integration demonstration bases and 49 "industry-education cooperation cultivation projects" sponsored by the Higher Education Department of Ministry of Education. The university lays emphasis on organic integration of professional education and innovation and entrepreneurship education, and established College Student Innovation and Entrepreneurship Incubator, winning the first prize in The National College Student Structural Design Competition and various types of prizes including the silver prize in China's "Internet+" College Student Innovation and Entrepreneurship Competition. The students of the university have won over 800 national-level and provincial-level college student scientific and technological competitions over the previous 3 years. The employment rate of graduates at the university is maintained above 97%, and the entrepreneurship rate remains among the Top 10 undergraduate universities in Zhejiang.
The university emphasizes open education. The universities has established friendly cooperation with over 80 international universities and institutions in countries such as Britain, France, America, Canada, Belarus, Japan, South Korea, Australia, Sri Lanka and Thailand as well as in regions such as Hong Kong, Macau and Taiwan. The university attaches great importance to the nurture of outstanding talents, encourages graduates who are willing to continue their studies to apply for graduate programs, and selects a certain number of outstanding students to study in overseas universities every year.
The university insists on cultivating students with culture and virtue. The university has always insisted on the motto of "Nurturing Talents with Wisdom and Virture" to serve regional economic and social development and national strategies, and offer an important insight into private universities.